Looking for programs to take part in? There are many recreational opportunities.
Cadets take place Monday and Wednesday at the Community Centre, teens only.
Bootcamp classes are open to all ages 16 and up! These take place Tuesday and Thursday at the Community Centre. 6:30pm-7:30pm and $5 drop-in.
Chair Yoga with Mary Eliza at 1:00 pm Wednesdays at the Community Centre
Senior Fitness Tuesdays and Thursday mornings at 10:30 am at the Community Centre.
Stretch Yoga with Mary Eliza at 6:00 pm Wednesdays at the Stewiacke Legion.
Please check our town events calendar for other updated recreation activities as there are always new and exciting recreational events being planned.
Holiday Fun
Over the Holidays, the Town of Stewiacke offers special days in the community to celebrate with our neighbours. We will be celebrating Christmas in Stewiacke all day long with many events taking place throughout the day. Keep your eyes peeled for a poster, coming soon!
We also offer an Easter Egg Hunt and March Break Fun. Stewiacke also hosts a wonderful festival in August called Town Days! Should you be interested in registering for a program, looking for some information or making a suggestion please contact Erin Richard at 902-639-2111 or This email address is being protected from spambots. You need JavaScript enabled to view it.. Stewiacke has lots more to take in, you just have to know where to find it! Let me be your connection.
Programs for Kids
Youth Summer Sports
The Town of Stewiacke Youth sports summer programs provides a fun learning and growing experience. Youth can benefit from league play in baseball, softball and soccer as well as a variety of sports camps/clinics in indoor soccer, basketball, floor hockey, and flag football. These programs provide a competitive recreation opportunity that promotes fitness and wellness to participants through team and individual league play. The goals of the programs include fun, participation, skill development, and sportsmanship.
Stewiacke Youth Sports Philosophy
Fun: Creating an environment that provides an enjoyable sports experience. Playing for the love of the game.
Participation: Providing an equitable opportunity for play and promoting fitness and wellness through physical activity.
Skill Development: Improving the participant's skill level through practice and play.
Sportsmanship: Actively expanding the individual's social ability to demonstrate teamwork, respect, and fair play.
2022 Summer Day Camps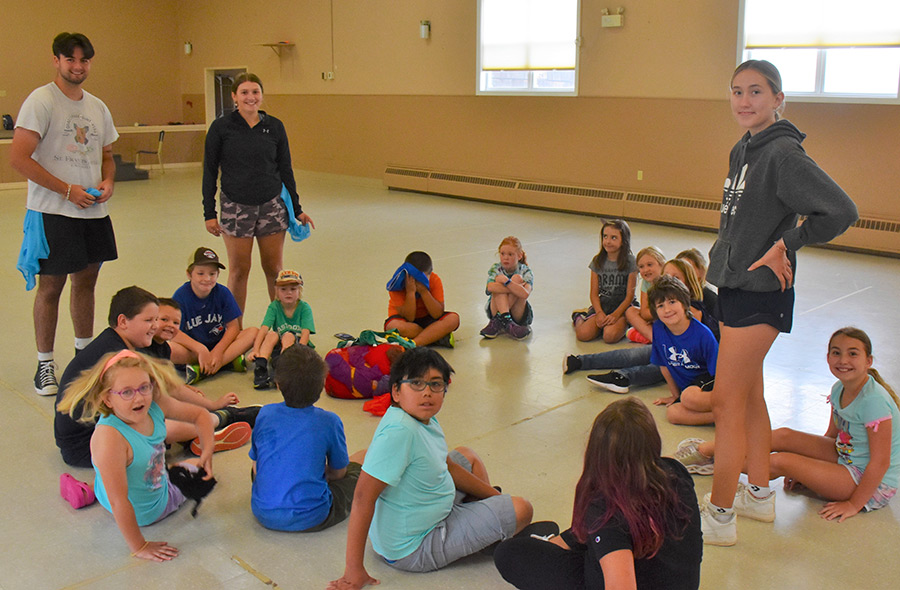 Come join in on a week-long SUMMER DAY CAMP for youth ages 5-12 during the summer months. These are fun-filled, brand NEW programs you will not want to miss!
The programs run Monday-Friday from 8:30 AM-4:00 PM in July and August.
Each week will have new and different exciting themes filled with field trips/activities and too much FUN! Register for both for a complete day of laughs, smiles, and excitement!
If you have any questions, contact Erin Richard at This email address is being protected from spambots. You need JavaScript enabled to view it..
Town of Stewiacke Summer Day Camp Program
Join Stewiacke Recreation for a fun summer! Our Day Camp Leaders will make sure every day at camp is something new and exciting! Registration will open on May 16th, 2022.
What should you bring to camp?
Sunscreen
Hat
Water
Lunch
Snacks
Shoes (in and outside)
Extra clothing
Registration Info
The town of Stewiacke is pleased to offer registered day camps for children 5-12 YR for the 2022 summer. To register for the day camp programs please contact This email address is being protected from spambots. You need JavaScript enabled to view it. or call 902-639-2111.
Week 1: Sports Week July 4-8
@ WRC 9 am-3 pm **
Week 2: Games Week July 11-15
@Stew Community Centre 8:30 am - 4 pm
Week 3: Trailblazers July 18-22
@Stewiacke River Park 8:30 am - 4 pm
Week 4: Carnival Week July 25-29
@Stew Community Centre 8:30 am - 4 pm
Week 5: Water Week August 2-5
@Stew Community Centre 8:30 am - 4 pm
Week 6: Craft & Creativity Aug 8-12
@Stew Community Centre
Week 7: Adventurer Week Aug 15-19
@Stewiacke River Park
Week 8: Trip Week Aug 22-25
Trip dates & locations will be released mid-summer
*WRC is a tentative location. It will be at the Community Centre if WRC isn't available.
Camp Fees
Week 1: $75
Week 2: $85
Week 3: $85
Week 4: $85
Week 5: $75
Week 6: $85
Week 7: $85
Drop-ins may be an option this summer if space allows but always call ahead of time to make sure space is available.
The Town of Stewiacke ensures a happy, healthy and safe environment for campers while in our care. Spend the summer with us!
We will visit the Playground & Splash Pad in Dennis Park weekly.
Stewiacke After School Program
The Town of Stewiacke holds after-school programs on-site once the class is dismissed. The after-school programs that the town runs are for youth in various grades. Each grade has a chance to participate and will continue to have those opportunities. We usually have the kids participate in games inside the gymnasium such as tag, dodgeball, soccer etc.
On nicer days, we have the kids dress for the weather and we will go explore what nature has to offer. The kids love building shelters and this is great for their ever-going imagination. There is a snack provided during the after-school programs, free of charge.
When there is only one facilitator we will take 10 youth, and when there are 2 we will take up to 24 students. Please keep your eyes out for a notice that will be sent home with your child when it is their turn to participate in an activity!
If you have any questions don't hesitate to contact This email address is being protected from spambots. You need JavaScript enabled to view it. at the Town Office at 902-639-2111.